CHAPTER 82 – In Which the Canadian Sings Gypsy Scholar
The city nomads are gathering in the small outdoor restaurant that the Canadian has opened next to his Breda caravan. He has prepared an extraordinary soup from the vegetables that Charles, Jasper, Thomas and other natives have brought. Grocery stall owners from the nearby vegetable market "Dappermarkt" throw many half-spoiled wares away on the street every day: potatoes, tomatoes, paprika's, onions, garlic, string beans, pumpkins, carrots, apples, pears, bananas etc. Bakers also throw their unsold bread from the previous day out on the street. The nomads gather that food in big baskets and bring it to their "base", where the Canadian washes it all thoroughly, removes the rotten parts and prepares the meals. Robert Jan has lived here for a year already and has no income other than the small rent from Dr. Troublemaker, Hare Krishna deserter Hank and others, who now and then live in a car wrack in his yard. 
         It is dinner time. The Dutch usually serve hot meals for dinner, while during the day they are satisfied with sandwiches and snacks.
         "Dr. Troublemaker! Do you want some soup?"
         "No! Thanks! I'll eat later at Iris' place. But I'd like a cup of coffee!"
         "Robert Jan! Bring me and Marlene some soup!" Roy asks.
         The Canadian brings two plates of soup. "That'll be ten guilders!"
         "For one plate?"
         "For both of you!"
         "Should we pay before or after?"
         "Before, please!"
         The member of the Red Brigades reluctantly gives him the money.
         "Is the bread free?" asks Marlene, who is sitting on a bench between her boyfriend Roy and Dr. Troublemaker.
         The Canadian puts the money in his wallet. "Everything else is free."
         "So, coffee costs nothing too," Dr. Troublemaker quips.
         "The bread, salt, pepper, it's all free."
         "So are the spoons and forks," little Martin adds.
         "Don't forget the plates and the toothpicks!" the Turk spots.
         Sigi takes it up for the Canadian. "Stop kidding around! In every other restaurant you'd pay at least 25 guilders for a great dinner like this!"
         "In the Hilton you do for sure," Dr. Troublemaker says.
         The Canadian pours himself a plate of soup. "I learned the art of cooking from the well-known chef cook and writer Michel Abehsera and used to work in his macrobiotic restaurant Samsara in the Lower East Side in New York."
         "Did you pick up leftover food from the street there as well?" Dr. Troublemaker asks.
"No way! The Jewish brothers from Morocco David and Michel Abehsera were quite well off. I went to Hollywood with David later. We drove the 2500 miles almost non-stop after which I had problems with my bowel movements for a week, because of that long drive. Thanks to David's good connections, I wound up in a luxurious villa called the Kushi House for macrobiotics that once belonged to that white jazz musician Al Jolson."
         "You became the boss of all the chef cooks there?" Dr. Troublemaker says, further pulling the Canadian's leg.
         "I recorded several of my own songs in a music studio with the musicians from Neil Diamond's band backing me up."
         "And then you became a big movie star, eh?" little Martin asks.
         "No, I didn't get that far. David believed in me; he thought I was another Bob Dylan. But I left Hollywood, disappointed. After that the mother of my first son Sebastian invited me to come to Rome. There I wrote an goodbye song, a tear jerker Campo de Fiore – Not All Roads Lead to Rome, for already a year later I left Rome heartbroken by train to Amsterdam. But in Basel I got off the train for a short visit to the Goetheanum in nearby Dornach. I planned to look around there for just a weekend, but instead I stayed there 12 years…"
         Sigi interrupts him. "Robert Jan, please give me some more soup."
         The Canadian waves his hand. "Please help yourself, I'm busy!"
         Sigi gets up to go to the big pot on the stove, others follow him while the Canadian continues his story. "Wait a minute… Where was I? Oh, yes! I forgot to mention that Michio Kushi's teacher, the Japanese George Oshawa is usually held to be the founder of macrobiotics. But that word actually comes from the doctor of the great German poet Goethe, a man called Husemannn, who wrote a book called Macrobiotics or the Art of Longevity. Oshawa was full of praise for Rudolf Steiner…"
         Now Dr. Troublemaker interrupts him. "Robert Jan, enough about your Steiner! How much is the coffee?"
         "One guilder, but it's free for all of you, tonight. I'll sing you one of my songs that I recorded in Hollywood."
         "Oh, we can't wait to hear it!" says Dr. Troublemaker.
Only now the Canadian starts finishing his bowl of soup. Within half an hour the 5 gallon pot of soup made by the Rudolf Steiner follower is almost empty. The nomads gulp down the culinary art from the macrobiotic kitchen, which  the Canadian had brought with him to Amsterdam, as if it was the best soup from the Hilton instead of leftovers from the Dappermarket.
         "Robert Jan!" Charles shouts. "Can we light up the peace pipe?"
         "Of course, you can!"
         Darkness is slowly falling. The light of the candles conjures up a fairy-tale scenery. The Canadian goes to his caravan while Charles rolls a joint. Robert gets back with his guitar and blues harp, sits down on a stool and starts tuning his guitar. "And now a song…"
         Charles gets up quickly and hands the joint over to the Canadian. "Have a smoke first!"
         The Canadian inhales, rolls his eyes and gives the joint back to Charles. He passes it over to Roy, who hands it over to Marlene. She gives it to Dr. Troublemaker and he to Sigi etc. etc....
         Robert Jan strums his guitar and then announces, "Gipsy Scholar."
         Everyone quiets down. The Canadian tunes the guitar once more. Marlene's hand slips under the table, gently squeezing Dr. Troublemaker's thigh. "What a whore!" Dr. Troublemaker thinks, but he does not complain.
         Robert Jan starts his song with an introduction by playing the guitar and the blues harp at the same time. Then he starts singing:*
Let me in, will you please open your door.
For a gipsy scholar from a North Sea shore.
Who was born in the town of The Hague
In the low lands of nether and windy weather.
And who died in that stock of wood
In the new State of York, so far from the stork!
So let me in, will you please in the name of the Lord.
I'm a knight of the word who's laid down his sword.
For I was born again in the city of Angels
And holy wood, and that was good.
And I went up a hill in a Swiss village of thorns and roses
And many colored poses!
So may I introduce myself to you?
I can tell you why the sky is blue.
And why the earth is black and the sun sets in red,
As Goethe already said.
And why plants grow and rivers flow,
It's all there for us to get to know, oh!
Oh, let me in, will you please lend me your ear.
I won't harm it, Shakespeare have no fear!
Oh, to be or not to be, 'tis no longer the question, at least for me,
For on this highway of spirit I've found,
I'm bound to become free!
So let me please take my leave now from thee
With these few words that were meant to be:
Oh when you hide behind the mind of your master,
It will not turn the world any faster!
         The Canadian takes a bow. Everyone applauds him. "Do you want to hear another song called Getting It Down in New York Town?"
          "No! No! This is enough for tonight!" everyone shouts.
         "Shitty New York…" Sigi mumbles.
         Marlene's hand moves higher and higher on Dr. Troublemaker's thigh. "Do you want to come and see where Roy and I live?" she says quietly
         "It's not that far away from here. On the boat near the bridge," Roy adds.
         "I'd love to!"
         The trio heads for the river boat.
* * *
<![if !vml]>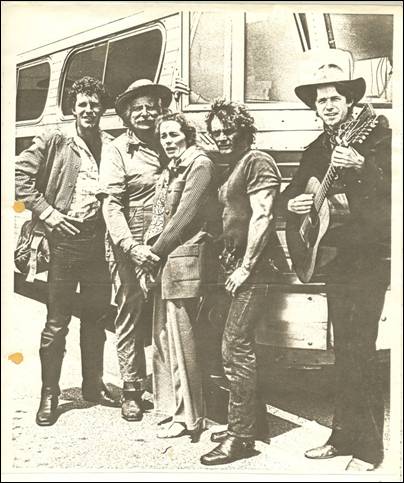 <![endif]>
The Dutch-Canadian Troubadour Robert Jan Kelder with veteran actor Will Geer and Co. at Warner Bros. Studio in Hollywood before the start of their tour "Americana 1973" from L.A. to New York with selected works of Robert Frost, Mark Twain, Walt Whitman and Woody Guthrie.