<![if !vml]>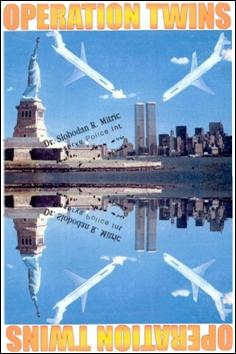 <![endif]>Appendix 7
"Ronnie has personally admitted to me that after reading this manuscript [Operation Twins], he decided to negotiate with Moscow (…) about nuclear disarmament and the mutual struggle against terrorism," says General Raymond Healey, Director World Atomic Counter Espionage (WACE) to CIA Director William Casey in Chapter 53 of this book. And as former CIA Director for the Soviet Union, James Jesus Angleton, upon recognizing himself as one  the main characters of Operation Twins said to the author Slobodan Mitric, "it is the absolute truth."
For the original Serbian version of this prophetic science fiction trilogy set in the last three days of the last millennium, the author in 1986 was awarded an honorary degree in law from a Police Academy in Arizona. A planned film version with the backing of President Reagan did not materialize; the CIA confiscated the mansucript. In the P.S. to his letter on the next page regarding CIA involvement in Sadam's so-called WMD's , the author writes, "The CIA was aware of all these plans in 1982 because they were able to lay their hands on Operation Twins. I am slowly beginning to wonder: were these agents who told me all that in detail also not sent to me by the CIA and MOSSAD in order to afterwards  prepare their dirty wars, which are now already taking place? If I think things over well, I would not be surprised if that were indeed the case. Anyway, it is only in the United States and nowhere else that an answer to all these questions can be given."
Among the 21 appendices on the turbulent life and as yet unrecognized work of the writer is vital background and inside information on the author's frequent but unheeded forewarnings of  9 /11.
The retranslated version of part 1 of this trilogy was presented by the Willehalm Institute press in March 2005 in the national press center in The Hague next to the parlaiment buildings.
Operation Twins, Part 1 (ISBN 90-73932-05-X, 192 p.) and a pre-publication of Part 2 (ISBN 978-90-73932-07-4, 80 p.) can be ordered at the bookstore, on internet or directly through the publisher by sending an email to:
info@willehalm.nl.  For more info: www.willehalm.nl